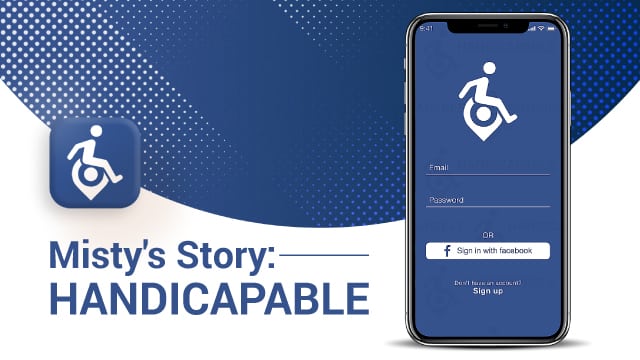 See how we've helped Misty develop her business.
Overview:
Misty reached out to us after having a number of negative experiences with app development companies, and getting endless price quotes that were just entirely unrealistic for her business.  As a person living with mobility challenges, she is passionate about helping make daily life easier for people with disabilities by relieving daily stress around transportation matters with an innovative mobile app.
She has an unbelievable commitment to the cause, a great idea for an app, and has been passionately pursuing the project through ups and downs with incredible resolve.  She is remarkably persistent and proactive – and has done an amazing job connecting with elected officials, business leaders, and other people to cultivate support.  She was even accepted into a high-profile incubator program, but sadly could not participate because she didn't have a working MVP of the product, because she simply couldn't afford one.
True to her character, this didn't deter her, and she kept moving ahead, which is when she found us.
Our take:
Misty is a total rock star.  There is no other way to put it.  From the first phone call we had with her we loved her app idea, and believed that she is definitely the person who can build a successful business around it.  And better yet, we think this is going to be a business that makes a really big difference in a lot of people's lives.  She has all the tools – she just needs some expert advice and support.
There are two primary challenges she faces: she doesn't have any experience with software or app development, and she doesn't have a lot of funding for her business.
We knew we could help, at least with the first part, which we believe will lead to solving the funding problem, and were determined to work together even if we didn't make much money at all on the engagement.  So that's what we decided to do – because we want to see Misty's app out in the world.
How we're helping:
We are working with Misty to build the infrastructure from which she can build out her business and technology.  To do so, we are advising her on her business plan, mapping out the most cost efficient and scalable technology approach, making a blueprint of the app architecture, and even helping where we can with her efforts to raise investment funds, by making introductions, providing strategic guidance, and helping her make a compelling pitch deck and establish an attractive online presence.
Business Plan:
While Misty has a vision for an amazing app, she is also a first-time entrepreneur, and as such she hasn't yet built a successful business.  With this in mind, we have brought in experts that we partner with to help us work with her on a comprehensive and realistic plan for building her business.  Our aim is to create an actionable game plan keeping in mind her budget and priorities.  We're helping her think through the business that will drive the app – not just the technology.
We're also helping where we can with fundraising – by supporting her in applications to incubator and accelerator programs, suggesting funding sources, making introductions to relevant people, and by helping her put together a public facing web presence, and a top-flight investor pitch deck.
Technology Blueprint:
While we aren't building the app just yet, there are a lot of actionable steps that we can do to prepare for that stage, and we're helping Misty with this part of the process.  We're doing a deep-dive analysis of the app concept and putting together a blueprint for exactly how to build it – with every detail covered.  This phase includes doing feasibility studies, and assessing third party integrations – so that we're 100 percent sure that all desired functionality is possible, and know the best way to do it.
We are also working closely with Misty to teach her how the app development process works, so that she can become an effective manager of app development projects – which will be an asset to her throughout her journey.  It's exceedingly hard to manage software and app projects without experience doing so, or a technical understanding of software engineering – and this is often the root cause of projects that go sideways and out of control budgets.  We're helping make sure this never happens to Misty.
In the client's own words:
"After many heartbreaking setbacks in the process of pursuing my idea, I lost my spark for a bit – until I found YourCTO. Once I started working with them, I finally felt excited again for the first time in a long time. They go above and beyond, and have helped revitalize my dream. They've made the process effortless."
Key Points:
Our engagement is based on what's best for Misty, not what makes us the most money
Providing expert advice on business plan and strategy
Creating a fool proof technology plan that matches the business vision

Offering counsel, encouragement, and advice on a rolling basis