Your
tech partner...
strategist...
CTO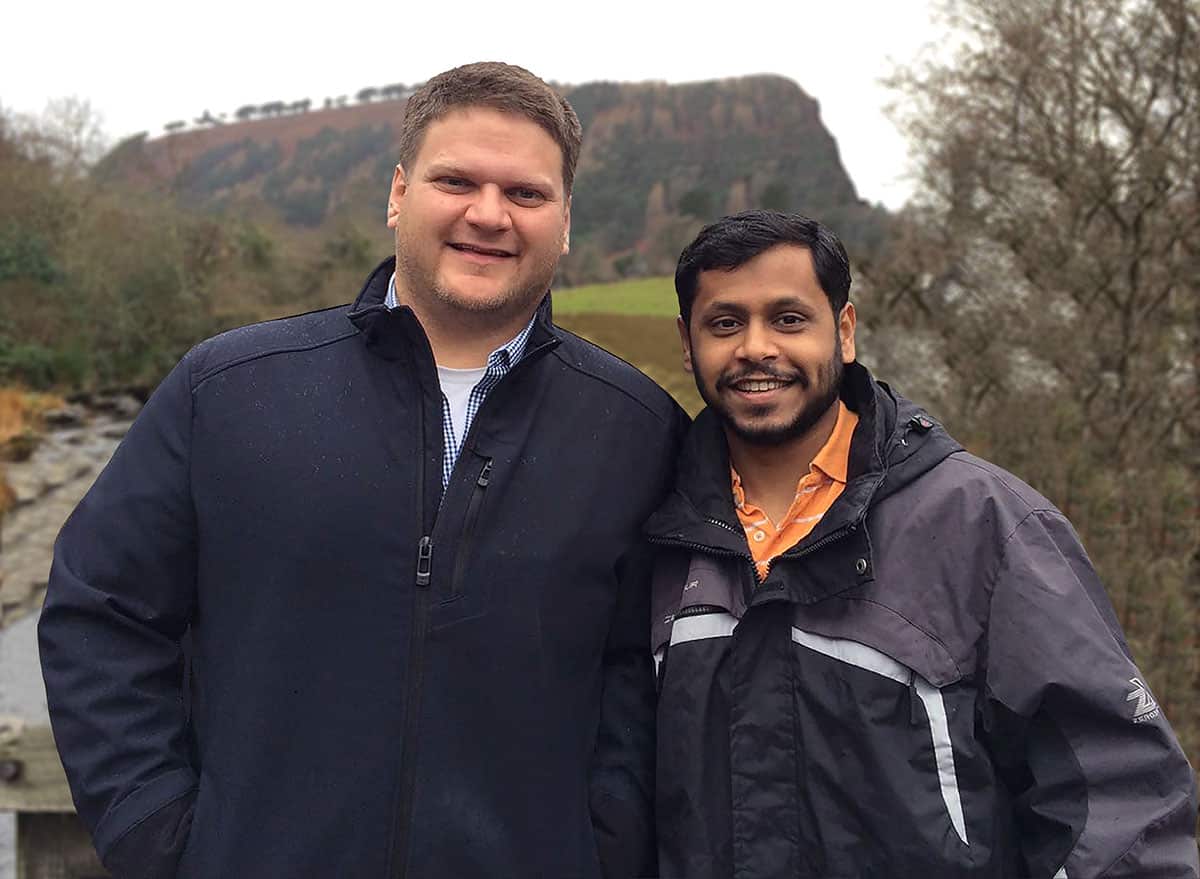 David Kirk and Shubhanan Deshpande, YourCTO Co-Founders
YourCTO provides affordable and trustworthy software development and strategic technology consulting. We are based in Washington, D.C. and work with a wide range of clients across industries and locations. We specialize in helping early-stage startups and non-technical entrepreneurs.
Our guiding philosophy is that you deserve the same level of attention and support that big companies get. For this reason, we're small by design: we only take on as many projects as our founders can personally oversee.
We know that investing in a software or app project is a major commitment, and we feel a tremendous responsibility to be a true partner in the process. You can always trust us to safeguard your interests and act based on what is best for your business – not what will make us a profit. We work hard to earn and keep your trust, and can handle all technology matters so you can focus on building your company.
While most founders would love to ultimately find a technical co-founder or hire a Chief Technology Officer and in-house development team, it's not always easy, affordable, or even advisable to do so at the start of your journey. These challenges shouldn't inhibit your plans – we'll be your CTO.  
David oversees YourCTO's business operations, marketing, communications, customer service, and project management. He has extensive experience working on software development and strategy with startup companies, individuals, small businesses, and nonprofit organizations. He has overseen a wide range of small and large scale projects including mobile applications, web applications, B2B and B2C products, immersive professional development travel retreats and events, communications, and web design. He also advises corporate, individual, and nonprofit executives (ranging from startup phase to $150 million+ organizations) on business strategy, program design, web design, fundraising, and communications. David specializes in working with early stage and non-technical entrepreneurs, nonprofit clients, and small businesses, and is passionate about helping people understand how the software development process works and bringing their ideas to life in an affordable, transparent, and sustainable way.
Prior to starting YourCTO, David conceptualized, created and served as executive producer of a reality television show in India and Pakistan that featured young entrepreneurs pitching startup business ideas to a cross-border panel of investors. As part of this effort, he successfully raised funding, recruited talent, built a trilateral partnership, and negotiated broadcast deals with CNBC India, India's most viewed English language business network, and GEO TV, Pakistan's then-leading cable entertainment network.
From 2009-2014, David served as the Director of the Young Atlanticist (now called the Millennium Fellowship Program) program at the Atlantic Council, a foreign policy think tank – where he was named the youngest Director in the Council's 50+ year history. In that role he raised over $3.5 million in seed funding from government, foundation, corporate, and individual donors, and launched a diverse variety of professional development oriented travel experiences and events around the world. In doing so, he worked with strategic partners including the US State Department, the European Union, NATO, the Robert Bosch Stiftung, the Allianz Foundation of North America, and many others.
Prior to joining the Council David worked as the Communications Director on five political campaigns, including work on statewide electoral races in two key battleground states. His last position in electoral politics was working in political outreach at the 2008 Presidential Inaugural Committee, which oversaw the first inauguration of President Barack Obama.
David is a Washington, D.C. native, and received a BA in International Relations from Franklin University in Lugano, Switzerland, and a MA in International Studies and Diplomacy from the University of London School of Oriental and African Studies.
Shubhanan oversees YourCTO's technology operations, including strategy, innovation, planning, and implementation.  He has over 15 years of experience in building and managing technology solutions for a wide variety of applications. His work has ranged from startup projects to massive solutions servicing over one million concurrent users.  He has delivered scalable B2B, B2C and white-label solutions, native Android, iPhone, and hybrid mobile applications, and a wide range of other software solutions in the startup, e-commerce, healthcare, real estate, manufacturing, education, and defense sectors.
Prior to starting YourCTO, Shubhanan founded Beacon Tech Labs, which provided innovative technology solutions and strategic consulting to a wide range of corporate clients, primarily in the education and e-commerce spaces.
Before starting Beacon, Shubhanan worked at the Ohio State University Medical Center, where he designed a reusable technology solution to help aid the work of cancer researchers. Before joining Ohio State, he worked as a part of the Yahoo! Search team, where he helped with monetized solutions facing over a million users.  He has also worked as part of the Stem Network initiative undertaken by BHEF (a group of Fortune 500 leaders) and Raytheon, Inc.
Shubhanan is adept at global team management, strategic planning and roadmaps and overall technology architecture and delivery. He has built and managed technology teams for a diverse set of organizations, and has managed teams of 25+ members across functions and geographies. He has helped a variety of startups in their concept-to-product journey, and knows very well the challenges that early stage entrepreneurs are faced with.
Shubhanan is a proud Buckeye; he did his dissertation on Knowledge-based Cyberinfrastructures and received his Master of Science (M.S.) degree in Computer Science at The Ohio State University (Columbus OH). Prior to that, he received his Bachelors in Computer Science from College of Engineering, Pune. Shubhanan enjoys brainstorming and exploring new possibilities to make people's lives easier. He is passionate about helping people who want to bring their ideas to life, and make their mark in the world.