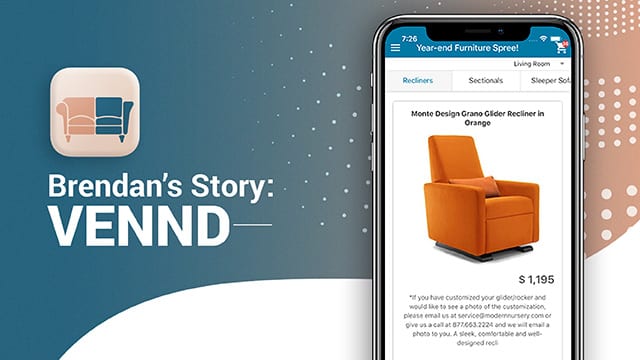 How we Helped Brendan from Idea to App Store
Overview:
Brendan came to us with an awesome idea for an app, which came from a real life challenge that he and his wife faced when shopping together for new furniture. He wanted to make it easier for couples and groups to shop together, and had a great idea to use the swiping interface popular in dating apps to help people quickly identify products they are interested in, and log when the other people they are shopping with also like something. This way, the couple or group could quickly get to consensus because they can fast-forward to the list of products that everyone likes.
Brendan had done his homework and had a really good idea of what he wanted in terms of functionality, but he isn't a coder and didn't know how exactly to approach making the app. That's when he contacted us – and we're glad he did.
Our take:
Brendan is exactly the kind of person we want to help. We absolutely loved his app idea, and knew that it was something we could help build. He had obviously put a ton of thought into the idea, and his passion for it was infectious. He had all the tools to be successful – the only thing he was lacking was a trustworthy partner to build the technology and teach him more about how the development process works. 
How we helped:
The first thing we wanted to do was to fully understand Brendan's vision – not just what the app idea was, but also what his short, medium, and longer term vision for the business was. By investing the time in understanding his business, we were able to understand where the app might go in the future, which let us approach the technology plan keeping future growth in mind.
As an individual without any big venture capital funding, we also knew that it was incredibly important to keep the project budget in a reasonable range. We knew that other companies had quoted huge amounts that very few early-stage entrepreneurs could possibly afford.
With all this in mind, we set out to present a technology roadmap that matched his business plan and budgetary realities.
After going through a very detailed process to understand all features and functionality that he envisioned in the app, we made several suggestions to streamline the approach to keep costs down, without compromising quality. Once we agreed on a final list of features, or requirements, as we call them in the software industry, we agreed on a game plan and got to work.
We handled everything from the tech side so that Brendan could focus on building his business. We took care of all wireframes, designs, implementation, and testing – making sure to keep him closely informed with regular updates. Throughout, we made a point to help teach him about each step of the process, so that in the future he'll have the experience he needs to understand the development process and effectively manage development projects – with or without us. Making sure to show our work, we progressed through the development process and landed on an app that we all loved.
With everything ready to go, we took care of the final step, of uploading the app on the Apple and Google app stores, and going through the review process for each. Pretty quickly, the final product, Vennd, was published in both!
Where things stand:
We're delighted to have provided a technology solution that exceeded our clients' expectations, on time, and on budget. While the business is still in the early stages, a lot of exciting things have happened since. Brendan has had great initial feedback from beta users, entered into partnerships with a number of leading furniture companies, and even attracted some interest from potential investors. We've continued to provide tech support on the initial version, and are delighted to have recently agreed to partner once again to continue building out the technology. We're all excited for what the future will hold and are delighted to be able to support Brendan in his journey.
In the client's own words:
"Working with YourCTO has been a phenomenal experience.  They did a great job building our app, at a very fair price. Their execution on the tech side was great and I found the proactive communication quite helpful. Perhaps the biggest value add was YourCTO's ability to manage the product we were building. They were constantly thinking ahead, mapping out the user journey and challenging us to consider new options that either saved us money in the long run or made the product better. Both co-founders gave us an amazing level of attention and made the process feel easy. I highly recommend working with them."
Brendan, Founder, Vennd
Key Points:
Provided all technology needs from idea to app store
Worked hard to match tech plan with business plan
Offered efficiencies to keep the budget down without compromising quality
Invested time to help client learn how the process works, which will help them in the future

Initial engagement has led to a continued partnership