Which is better, hiring an in-house technology team or outsourcing your mobile app development to a highly specialized third-party provider? There are a lot of moving parts in the app development process, and your company may lack the resources or expertise to handle the process on its own. Working with an outside third-party may seem complicated, but doing so might be the best option if you want a fast, easy, and efficient app build.
It also doesn't mean working with a provider overseas, as there are many companies in the U.S. that provide these services.
This guide takes a look at the in-house vs. outsourced app development debate, plus explores the pros and cons of outsourced app development and why many businesses are choosing to engage in such partnerships.
In-House vs. Outsourced Mobile App Development
Your business needs a mobile app, and that goal can be achieved in one of two ways:
You could build that app with full-time tech staff in-house, so you'll have full control over all aspects of the app development project.
You could outsource development to a team of experts who will work to bring your vision to life.
In-house options can be beneficial in certain circumstances, but it is important to understand the app development process and why it's often best handled by industry experts. Expert support means you'll be well-equipped to get an app that truly meets your goals.
When to Keep Mobile App Development In-House
Some reasons to consider moving forward with in-house development include:
1. You Already Have the Experts
Teams with mobile app development experts on staff will benefit from building their apps in-house. They already have the the expertise and talent to be able to create something effectively, so there's no need to turn to outside help.
2. Your App Will Support Your Core Business
If your business operations will center around this app, hiring in-house professionals to develop, test, and launch the solution offers more control. Plus, your team will be able to instantly update it or identify and address any operational issues before they get out of hand.
3. You Want Your Tech Team to Work Onsite at Your Office
Your app will constantly evolve, so you'll need real-time support to ensure it consistently performs as expected. A dedicated, in-house team at your disposal means you can quickly implement app changes.
4. You Want Your App to Align Closely With Your Brand
You may know what you want from your app better than anyone else. If you meet with app developers and find that none can deliver a solution that fits your vision, you may be better off hiring in-house developers.
There is a lot to like about having app developers on staff, but even an in-house team offers no guarantees. In fact, there may be times when outsourcing your project is the way to go.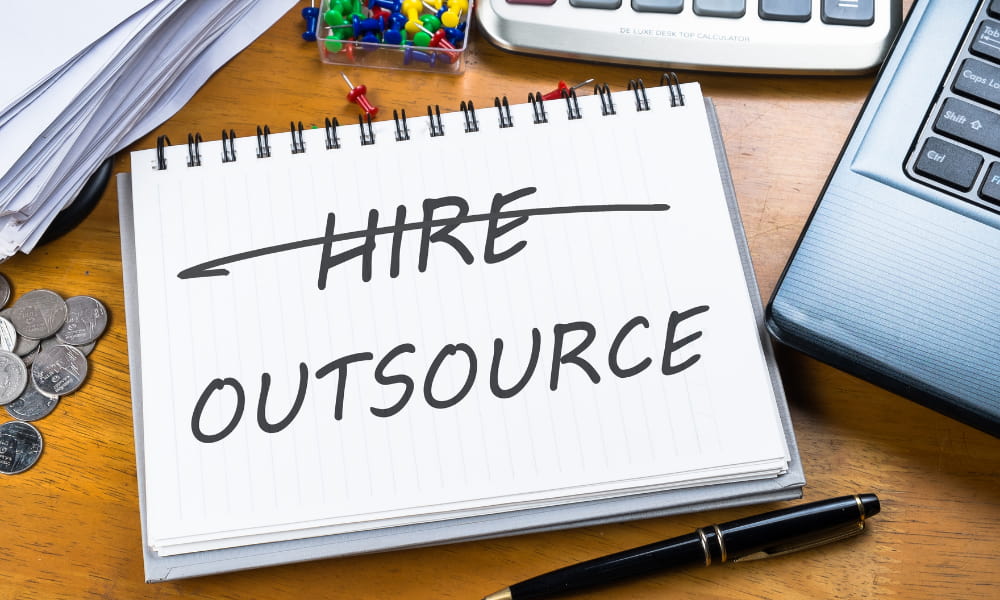 10 Reasons to Outsource App Development
If you're on the fence about whether to outsource mobile app development, it helps to know why businesses frequently choose this option. Here are 10 reasons companies choose to outsource app development.
1. Cost Benefit
Outsourced app development is terrific for businesses on a budget. Working with a company is often considerably less expensive than hiring in-house talent. Companies also offer a variety of ways to minimize your financial risk, including setting a fixed price for an app development project.
2. Access to Top Talent
If you don't already have a tech team in place or a technical co-founder, you may find it very difficult to find, vet, and afford in-house tech talent. App development companies specialize in recruiting the best tech talent, and building teams with the exact specialities that the project requires. Partnering with a development company can often result in your having access to talent you may otherwise have been unable to retain.
3. Scalability and Flexibility
App development needs can quickly increase or decrease over time. While it's hard to quickly hire new employees, it's easy to scale up an outsourced team to add expertise when needed very quickly and without the burden of doing recruitment or taking on bigger overhead costs.
4. End-to-End Support
You and your app development team share a common goal: to make your app as great as possible. You can contact this team at any point during the project if you have concerns, questions, or feedback, or if you require additional assistance at any point after it's completed.
5. Expertise
App developers focus exclusively on building great apps. They are industry experts who can transform your app ideas into realities. Companies that specialize in app building also have a wealth of knowledge from the other projects they have worked on. This can help make sure you avoid costly mistakes.
6. Advanced Technologies
Along with their in-depth industry knowledge, app developers embrace the latest and greatest technologies. As such, they can integrate state-of-the-art technological features into your app that your in-house coders may have not mastered.
7. Creative Input
You may have a good idea of the app you want but need extra help to flesh it out and build the best possible version. Partnering with an app development team means you can get creative insights and guidance from industry professionals.
8. Competitive Advantage
While your business focuses on what it does best, an app development team commits its time, energy, and resources to building your app. This means you can prioritize high-value tasks and rest assured that your app development process is in good hands. At the end of the development cycle, you'll get an exceptional app that does what you need it to do.
9. Minimal Risk
An outsourced app development team conducts extensive testing before you launch the app. That means you won't have to constantly worry about bugs or glitches that impact your end-users. 
10. Fast Results
App developers feel the need for speed and will work diligently to deliver your project as soon as possible without taking shortcuts. You can be sure you'll end up with an app that matches your expectations.
There are many reasons to consider outsourcing app development, but the most important element is choosing the best partner to help you execute your vision. Understanding the development cycle will help make sure you know the right questions to ask when hiring your team of experts.
What to Expect When You Outsource Mobile App Development
Trusting your app to an outsourced team is a big decision that will likely impact your company for years in terms of growth and potential revenue. You don't want to hand your dreams off to just anyone, though. The right app development experts will take the entire process — from your first interaction with them through to regular maintenance of a completed project — as seriously as you do.
The mobile app development process includes the following stages:
1. Discovery
The development team does a deep dive into your app idea and business objectives, then offers an app recommendation.
2. Strategic Plan
You'll receive a detailed outline of your app's features and functionality. The outline includes clear app development milestones and expectations, plus helps ensure your project will stay on track.
3. System Architecture
A system architecture provides the foundation for your project. At this stage, an architecture is developed that is aligned with your business and tech goals.
4. App Screen Design
Your app is visualized using wireframes (basic outlines) so you can see how each section of it will look once it's complete. Feedback is collected and analyzed to ensure your app appears exactly how you want it to look.
5. Development and Testing
Testing is performed according to your project priorities and timeline, and you are kept in the loop throughout development and testing. You're also encouraged to reach out to the development team during the project with questions or concerns.
6. Delivery and Handover
Your app is done. At this time, the app store approval process gets completed, your app is published, and you receive your source code and other work products.
The right app partner will ensure you receive ongoing app support following app development. This ensures that the team can continuously fulfill your requirements — without exception.
Contact an Expert with Questions About Outsourcing Mobile App Development
The choice to outsource your mobile app development may be a tough one, but handing your project off to a team that truly cares about producing top results will make the process easier. If you would like to learn more about outsourcing your app development project, the team at YourCTO is here to discuss your goals and timeline. Contact us to speak with one of our experts about your needs today.